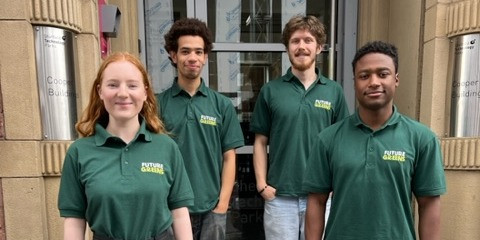 Green Startup secures six-figure sum to pave the way towards carbon-negative farming
It's been an exiciting couple of months for Future Greens - part of the Cooper Project - and we're delighted to share that a lot of hard work by the team has paid off, resulting in significant investment. Here's the press release with more details...
Future Greens, a pioneering startup based in Sheffield, has secured a six-figure investment to back a new innovative and sustainable approach to vertical farming entirely powered by food waste.
Substantial investments have been made by two venture capital firms and the company has received backing from a private Angel investor in Sheffield and a grant in partnership with the University of Sheffield from Innovate UK.
This significant financial support will boost Future Greens in their efforts to revolutionise the vertical farming industry by integrating food waste to power the growing process.
Throughout the first half of 2022, Future Greens was a successful vertical farming pilot growing year-round produce and supplying local grocers in Sheffield. However, the energy crisis exposed the vulnerability of the vertical farming model, which relies heavily on energy. Unable to afford the overheads, company founders David Dixon, Gabrielė Barteškaitė, Alexander La Fleur and Alastair Roper were forced to close their facility and rethink their approach.
The team joined Sheffield Technology Park's Cooper Project, designed to help tech entrepreneurs by providing free work space and tailored startup support. This move enabled them to start exploring renewable energy sources, with the ultimate goal of becoming carbon negative.
Future Greens' pioneering approach involves extracting energy from food waste, diverting it from landfills and incineration. This process not only reduces waste but also fosters a sustainable and circular farming ecosystem.
The recent investments will fund Future Greens' co-founders to work full-time on the development of their groundbreaking idea. Their immediate priorities include creating a prototype and preparing to build a vertical farm in Sheffield with food waste integration.
The team will take on a bespoke space at the Sheffield Technology Parks to develop the prototype, which they hope to begin building by November. The company is also looking to partner with businesses in South Yorkshire for whom they can process their organic waste for free, and are keen to hear from interested parties.
Co-founder Gabrielė expressed her excitement about the funds, stating, "Securing the investments is an incredible boost that allows us to be fully immersed in our mission. We've been developing this project on the side for three years while juggling part-time jobs to support ourselves. Working full-time on Future Greens is the reward we've been waiting for."
David added, "We came to Sheffield Technology Parks at the time of losing our facility and knowing that we had to rethink our model due to the energy crisis. Being here gave us the time and the space to think, develop our ideas, and come up with a solution that has garnered interest and now investment. So we're extremely excited about taking the next steps and getting this idea off the ground."
Tom Wolfenden, Sheffield Technology Park's Chief Executive, comments,
"David, Gabrielė and the team have worked hard to secure this investment. Future Greens has the potential to change the way we grow crops and solve a key challenge we face as a species: how to feed a growing population. Their passion and expertise is inspirational, and we're pleased to be supporting them here at STP as valued members of our startup community.
"We're delighted to share that this marks the fifth significant investment into an STP startup during the summer of 2023, with the total figure now exceeding £1.2m."
To find out more about Future Greens, visit the website: www.futuregreens.uk