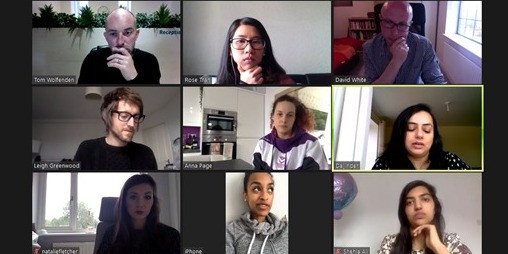 Thoughts on BLM
This week, we held our regular zoom call with our Cooper Project members. At the request of one of our members, we had an open conversation about what is, honestly, an uncomfortable thing to talk about – Racism.
It's uncomfortable because I know racism exists in all aspects of life. Uncomfortable because as a white person, aspects of my life come with unrealised privileges that others are not afforded.
STP didn't black out our social media. Not because we were not supportive, but because we don't want to be simply seen as another organisation looking for the right thing to say in the moment but instead offering meaningless words.
I was told on the call that it's OK not to know what to say. But it's not OK to say nothing. If we don't talk about it, things can never change.
So, I wanted to write this short post following the conversation:
We talked for over an hour and it took us from current events both here and abroad, to the wider issues of engrained racism in society, and those who have and continue to benefit from it. The need for a Black Curriculum – racism is learned behaviour and a lack of empathy can lead people down that path.
There have been many flashpoints over the years, where various events have happened and people rightly protest in anger and frustration that nothing changes. But then we stand by and watch things go back to how they were until the next time.
Many on our call acknowledged that it wasn't a comfortable subject to discuss. Lots of viewpoints were offered, and it was educating to listen to them.
This short blog is our acknowledgement of the events happening in the US and worldwide; a note to ourselves that this is a UK issue too. We stand against racism.
It has reminded us to check ourselves, our procedures, our policies. We are an inclusive organisation but saying so is not enough. We have to, now more than ever, make sure that this issue does not fade from sight.
Our local tech sector is not diverse enough: in race, ethnicity or gender. We do not attract talent from diverse backgrounds, which tells us that opportunities are not offered equally to everybody from across our City.
Through our various projects, we will continue to seek to address this. These include:
The Cooper Project incubator – open to anyone from anywhere with a technology-based business idea. We help to determine the business model, test and validate it before people leave to go on and develop their business.
Scale Project – an internal project working with our office occupiers looking to expand their established businesses with a resource of experienced mentors and entrepreneurs on hand for support
LOCATE – our effort to attract businesses to Sheffield from outside the region, in turn creating new opportunities for local people
Inspire – Our name for all projects we support, including Start-up Weekend, Bright Box Youth Board, Sheffield Digital Showcase, Inclusive work experience programmes.
This issue is more than we alone can fix. But if we all make positive actions towards a common goal, things can gradually get better.