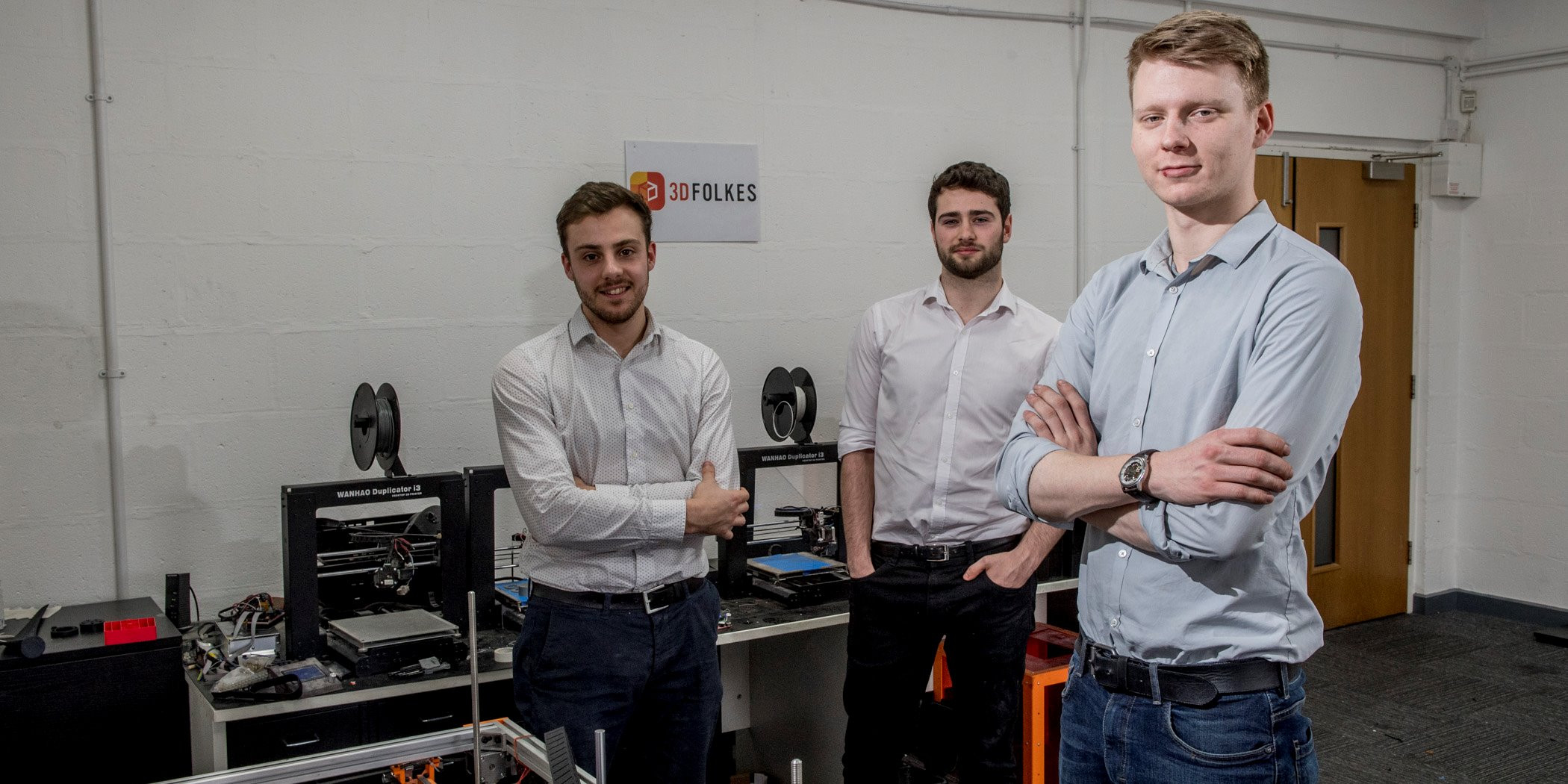 Meet Our Tenants: 3D Folkes
We sat down with Ben Folkes, Managing Director at 3D Folkes, to find out a bit more about the business and why they chose to locate themselves at Sheffield Technology Parks:
What does 3D Folkes do?
3D Folkes uses cutting-edge 3D printing technology and CAD design to meet the needs of Architects and Engineers, but also to transform lives. We are currently working on a project with a local young girl, Charlie, who needed a new prosthetic arm so we have started looking into the possibilities surrounding 3D printed prosthetics.

Can you tell us a bit more about the kinds of projects and clients you work with?
By specialising in 3D Printing and CAD Design we work with a diverse range of clients from Architects to Engineers, helping them to visualise ideas through 3D models, and create engineering prototypes to help businesses save money.
We have developed our own large-scale 3D Printers, capable of printing life-size models, and we are currently in the process of building their third. Clients we worked with recently, using our bespoke printers, include the National Trust and the RHS Chelsea Flower Show.

Tell us a bit more about the 3D printed prosthetics project you are working on:
We have recently been working with Charlie, a six-year-old girl from the local area who needed a new prosthetic arm. Charlie's previous prosthetic was so heavy that she needed to use her other arm to lift it, so we stepped in to help her develop a new alternative.
The NHS provides lightweight prosthetics which can take up to 2 months to produce, and an alternative charity project often has a waiting list of over 12 months, by which time measurements can become outdated and mobility can be lost. This is why one of Charlie's family friends reached out to us for help.
Charlie was able to help design the look and feel of her new prosthetic, even down to the colour and was thrilled with the results. The project gained both local and national press coverage including Good Morning Britain and we are extremely proud to have made a difference to Charlie's life.
In the future we aim to achieve a completion time of around 2 weeks for 3D prosthetics, almost a quarter of the time that the NHS alternative takes to build.

How did you start the business?
I started building the business in 2015 when I discovered the possibilities of 3D Printing whilst studying at University. I decided that instead of buying new figures for his football table, I wanted to produce my own and began researching 3D Printing. I developed my first 3D printer and later dropped out of my Mechanical Engineering course at Sheffield Hallam University to take forward the business after receiving requests from family and friends to create different things using the printer.
By 2016 3D Folkes was a registered company and has gone from strength. We currently have 3 full time staff and have plans for further expansion, aiming to double in size and eventually have our own shop front.

Why did you choose to move to Sheffield Technology Parks?
Sheffield Technology Parks has supported the business by providing affordable office space to enable us to grow. We moved here in March 2017 after I visited Mac Repairs, another tenant in the building for a phone repair. I was impressed by the central location and its proximity to both local public transport and the train station, and the idea that the office space was a non-profit hub for tech SMEs.
I think that by being at the Tech Parks, 3D Folkes is in an ideal location surrounded by other like-minded businesses and it's great to have the support of such friendly accommodating staff who provide everything from maintenance support to taking calls.
You can find out more about 3D Folkes on their website.