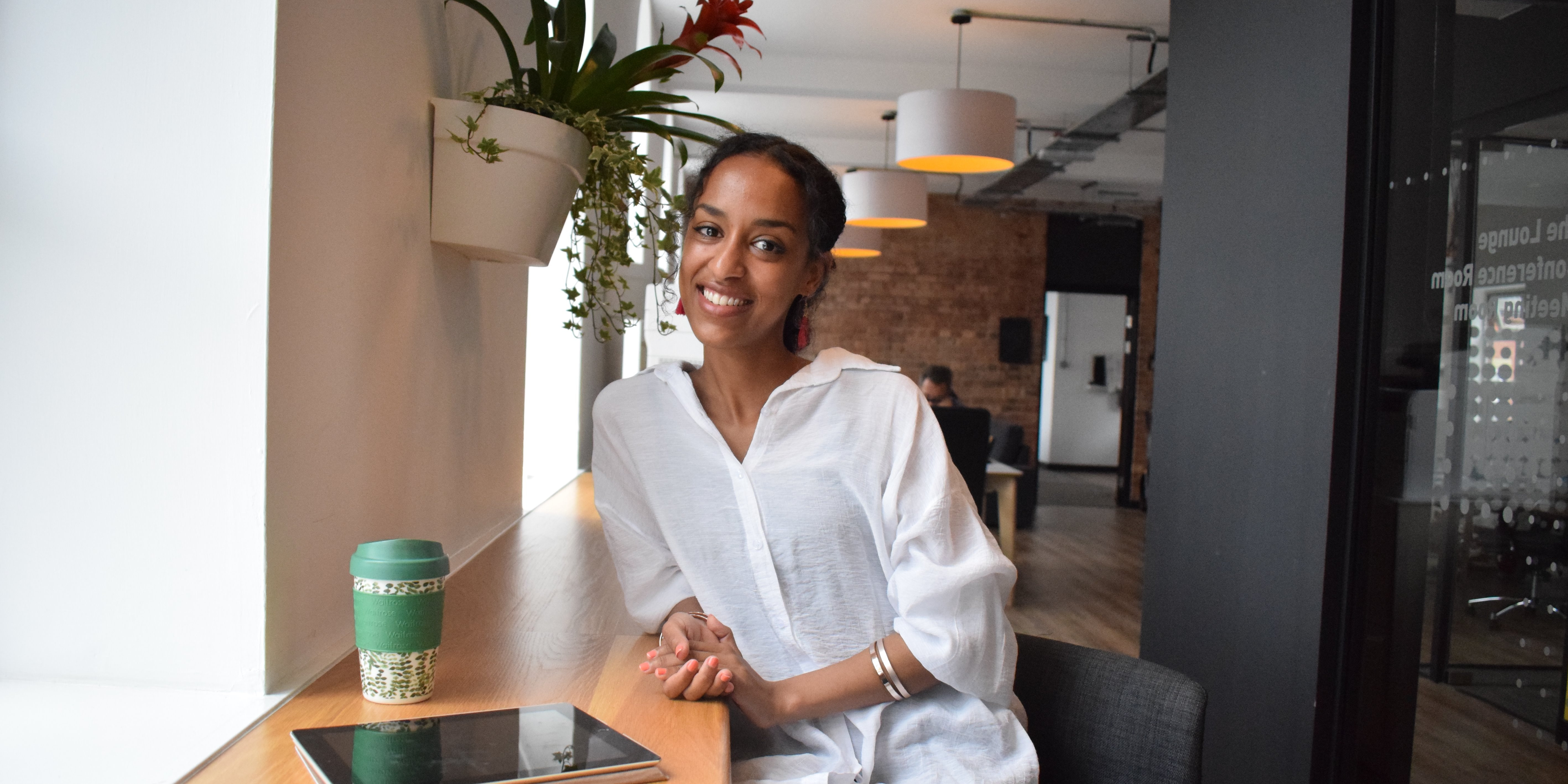 Meet Adiam, one of our Cooper Project startups
We caught up with Adiam Amanuel, whose team won this year's 'Startup Weekend Sheffield', to find out all about her startup business: '721'.
Startup Weekend Sheffield is a three-day event centered around action, innovation, and education. It's a great opportunity for budding entrepreneurs to pitch their business idea, form teams, create prototypes, and receive advice and feedback from the coaches and mentors. The weekend concludes with final presentations, judging and awards.
Tell us a bit about your business
721 is a mobile app which acts as a social discovery tool and stands for '7 continents into 1'. The team behind 721 is made up of myself, Alex Yates (Back-end developer) and Bhav Prajapat (Front-end developer).
How did you come up with this idea?
The idea came to me when I was travelling in India. Over time I noticed that people didn't really know what to do or where to go and I realised that even though there are so many things happening, people just aren't getting the right information.
So that inspired me to create a tool where people can find out what's going on in their local area, or the area they are travelling in, with suggestions specifically tailored to them - reducing time, effort and stress when looking for new things to do.
What is your unique selling point?
I'd say what makes 721 unique is that it isn't limited to one thing. Other apps may be focused on events, or travel, or ticketing… whereas 721 is in the middle, a mixture of all those things!
721 uses the content that is already out there and puts it all in one place, the user simply swipes left or right (yes or no) to different events/experiences which helps the app become more intuitive through learning the user's likes and dislikes - making the user experience as easy, and as personable, as possible.
What are you working on at the moment?
We're in the beta testing phase, which means we're working on improving our data so that the app can make more accurate suggestions to each individual user.
We're also working on creating 'premium' content and to test this we are working with local events and experience providers in Sheffield. Following the success of this, we hope to repeat this elsewhere with the overall aim of improving the quality of our data globally.
If you'd like to help us in our beta testing phase, please download 721: http://bit.ly/download721. We would also love to hear your feedback – look for our 'Slack' group link under settings in the app.
What are your plans going forward?
At the moment the app is focused on what's happening in the user's area at the time (location based).
Moving forward we want 721 to be used as a planning tool, this would allow people who are travelling or going on holiday to see what is happening before they go – enabling them to plan and book events or experiences.
We're also looking to expand the team and hire a UI/UX designer. If you're interested, please get in touch: 721journeys@gmail.com
What are the benefits of being here at Sheffield Technology Parks?
I think everything I've achieved so far and how far I've come is because of being here at STP on the Cooper Project. The number of networking events and support is amazing. It's also great to be able to use the Cooper Lounge and be amongst other startups, we bounce off each other and help one another out.
What would you say to someone starting their own business?
Be authentic and don't try and follow something that's already been done. I'd also say it's important to be able to adapt your idea as you go and be open to other people's suggestions and advice.
Visit www.721go.co.uk to find out more.