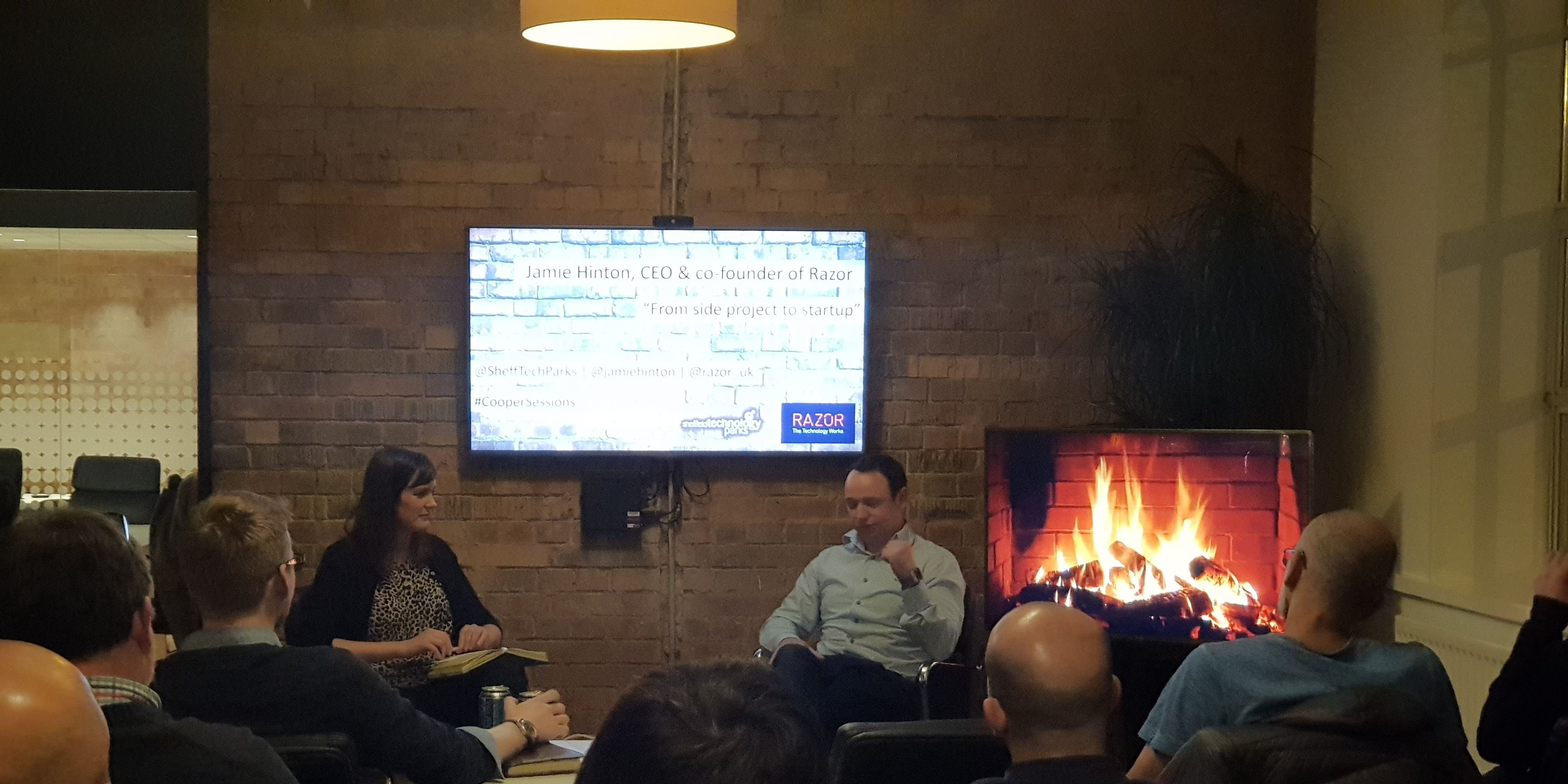 Cooper Sessions Launch with Jamie Hinton Fireside Chat
Last night was our very first Fireside Chat, and we were delighted to welcome Jamie Hinton, CEO and co-founder of Razor, to Sheffield Technology Parks to share his story.
The theme for the evening was "From side project to startup", a very apt title, because Razor started life in the evenings and weekends alongside Jamie's full-time role as Head of Technical Development at Technophobia. Jamie managed to balance both his full-time role and his freelance work for four years before formally registering the company and leaving Technophobia.
When asked what motivated him to work so hard, Jamie cited his grandfather who told him the adage, "If you turn your passion into a job, you'll never work a day in your life." It helped that Jamie's side project and his full-time job required him to learn and deploy similar problem-solving skills: what he learnt on a freelance project he was also able to apply at Technophobia. But, it wasn't all a bed of roses… Jamie said that "loss aversion" was a huge motivator to work hard too, because there was such a lot at stake including a mortgage and two young children to feed.
There were a few key people early on who were instrumental for Razor and continue to play hugely important roles. One of these is Jamie's wife, Katie, whose encouragement and support Jamie says was absolutely invaluable. This was really important in the early days when it was often a struggle to balance work and family, especially when Jamie's second child was born around the same time that he left Technophobia. Another key individual is his co-founder, Steve, who very early on saw potential in what Jamie was working on and subsequently bought into the business. He now owns 40%, and Jamie 60%, and both of them have split their shares with their wives. What Jamie values in having Steve as a co-founder is their complementary (and often opposing!) skillsets, which means that the business can flourish.
Jamie talked about the process of bringing on board Razor's first hire. Jamie and Steve had moved into a small office at Sheffield Technology Parks, designed for two people, but with just enough room to squeeze a third person in. Jamie and Steve worked hard and built up enough of a buffer so that they could forego their own pay for a certain amount of time in order to hire their first employee. In a short space of time, they needed to move offices as their team grew, and then move again, remaining within Sheffield Technology Parks. Jamie said that this flexible approach to office space was key in the early days and provided a huge sense of security. Jamie's approach to recruitment has always been to hire people better than himself, and they now have a team of approximately 20 employees based in the Workstation.
Razor's plans for the future include possibly expanding to another city and continuing to please their clients by producing top quality work. Jamie is proud to have bootstrapped his company from day one. When asked if he'd look to raise investment, he answered that he isn't sure what he'd spend the money on! The growth to date has been steady, Razor's clients are happy, and Jamie is rightfully proud of having built a company with a great reputation and fantastic culture.