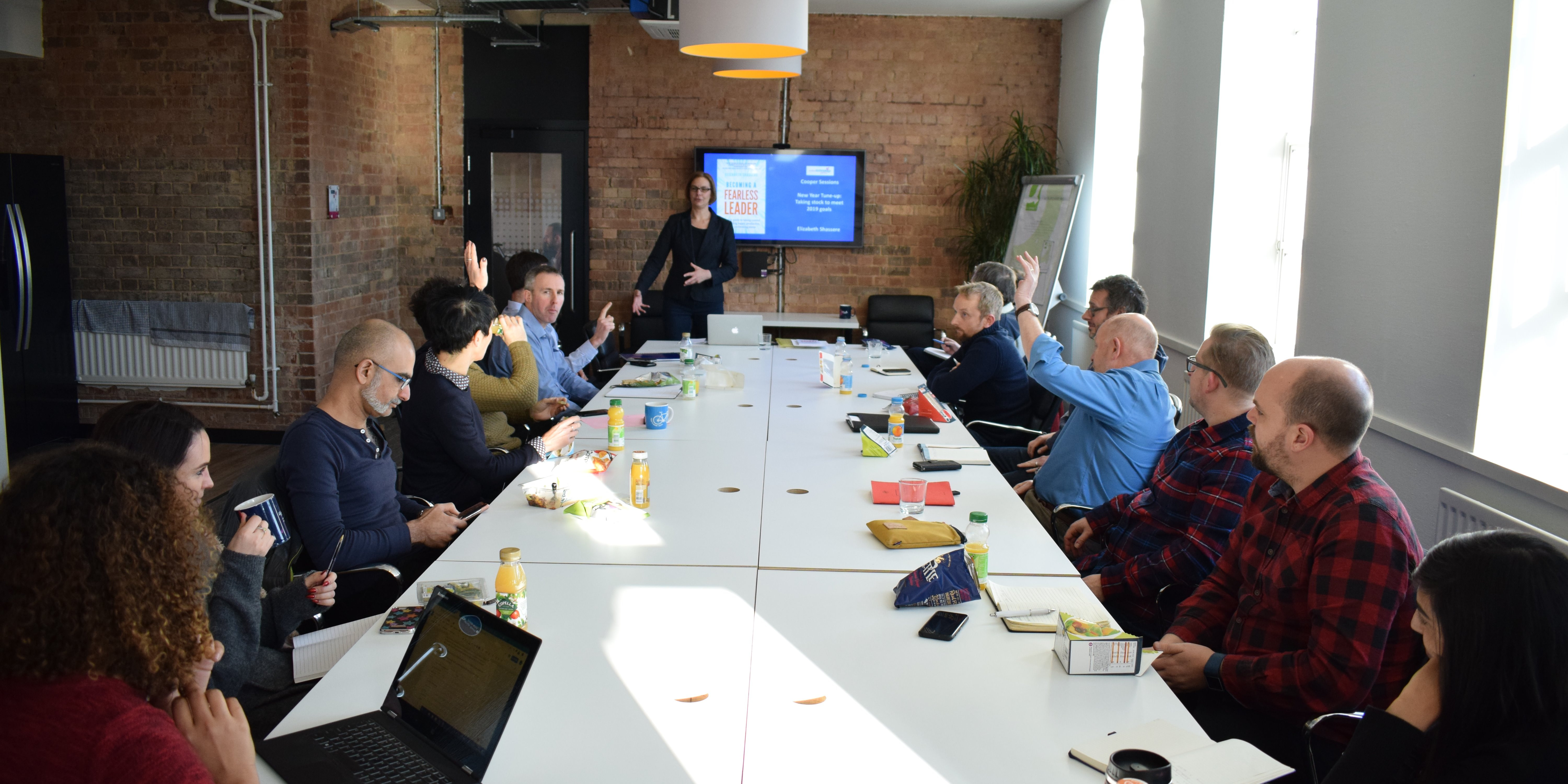 Lunch and Learn Launch with Elizabeth Shassere
We were thrilled to welcome leadership and management expert, Elizabeth Shassere , to Sheffield Technology Parks to deliver our very first "Lunch and Learn" Cooper Session !
Our Lunch and Learn sessions are a chance for startups and small businesses to grab a bite to eat, learn something useful, and meet likeminded entrepreneurs and business leaders.
The focus for our first Lunch and Learn, which took place on Thursday 17th January, was taking stock and looking ahead to make 2019 a successful year . Elizabeth, who has over 20 years of experience in leadership and management, is the author of Becoming a fearless leader: a simple guide to taking control and building happy, productive, highly performing teams.
Elizabeth introduced the session by empathising with the entrepreneurs in the room who might be feeling the opposite to a "fearless leader". She reminisced about her own feelings of fear at the start of her career as she was promoted into a role where she felt "out of her depth", "undeserving" and an "imposter".
Elizabeth stated that the purpose of the session was to help the entrepreneurs "overcome any feelings of self-doubt or complacency which may hinder their performance". In order to do this, she emphasised how important it is to use a model as a basis for assessment and handed out two variations of 'A simple scoresheet for taking stock', one for solopreneurs and one for leaders of small businesses (teams). The challenge for the Lunch & Learn attendees was to score themselves honestly on a scale of one to ten for six different elements which make up the foundations of a business. These included areas such as: values and goals, culture, and environment.
This was a great opportunity for the entrepreneurs to take a step back from the busy everyday tasks of running a business and take a moment to reflect on the all-important basics and highlight any problem areas. The aim was to identify specific areas for improvement and create a set of clear actions to help address them. It was also a chance to gain a deeper understanding of their, or their team's, performance and set out a clear vision for 2019.
One of the entrepreneurs who attended the Lunch and Learn found the scoresheets useful, stating: "It was helpful to put mind to paper and visually see where improvements need to be made. I will be leaving the session with a set of actions to take forward!"
What are Cooper Sessions?
Cooper Sessions include post-work "Fireside Chats" on the first Tuesday of every month, and hour-long "Lunch and Learns" on the third Thursday of every month - find out more here.
We welcomed CEO and co -founder of Razor, Jamie Hinton , to our very first Fireside Chat- Read more
Click here to register your place for our next Fireside Chat with guest, Nick Bax, on Tuesday 5th March.