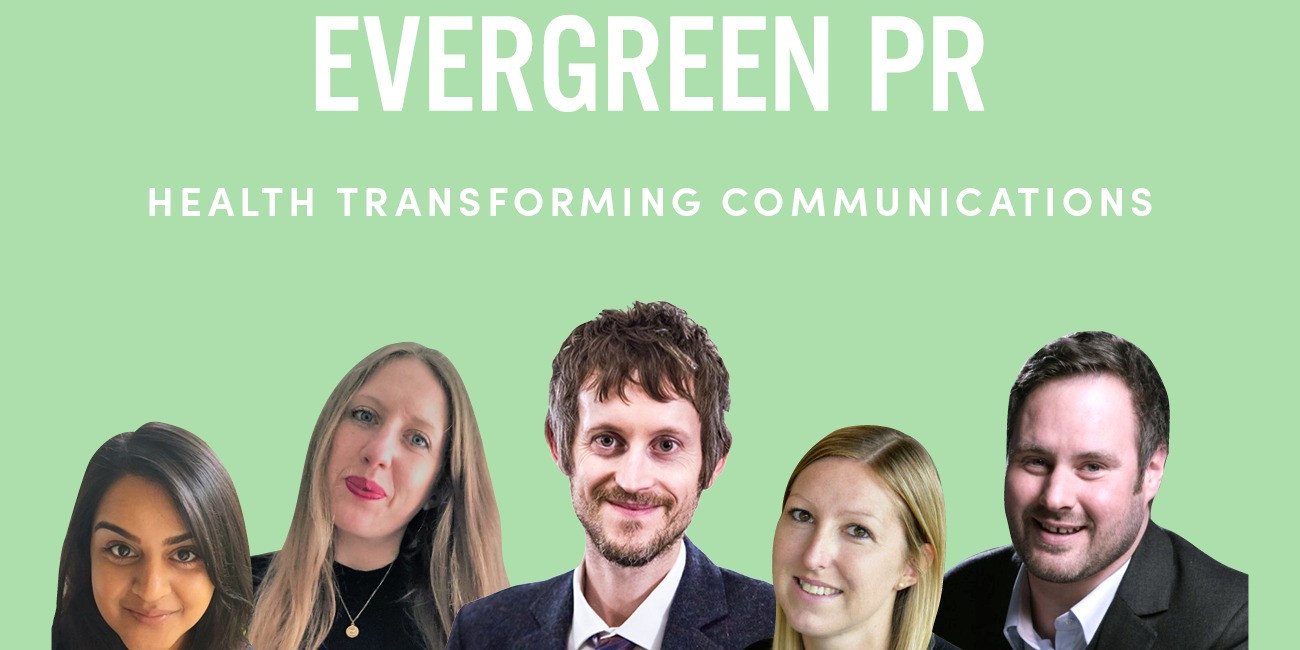 Cooper Project Alumni: Evergreen PR
We caught up with Leigh Greenwood, a previous Cooper Project start-up and founder of Evergreen PR, to find out how the business has been doing since finishing the programme.
Evergreen PR is a specialist health PR consultancy who deliver award-winning breakthrough campaigns for organisations that aim to improve and protect people's health.
During the past 12-months, Evergreen has won two PR awards, the PRCA DARE Awards for Best Public Affairs Campaign and Best Campaign for a Not For Profit in the North.
Leigh was also Highly Commended in the Best Healthcare Communications Professional category at the national PR Week Healthcare Awards.
How has Evergreen PR developed since you've finished the Cooper Project?
It's going really well. Over the past few months the business has picked up a lot and I've become a lot busier which is great.
Evergreen has secured two 12-month contracts, a sixth-month contract and other substantial contracts where we were up against big national agencies. Before this we typically worked on short-term contracts of around two to three months, so it's brilliant that what I've been working towards is now actually happening and it's all coming together.
Previously, it was me winning the contracts and delivering the work, but what I'm doing now is putting together really good and bespoke teams for each individual project. So, depending on what the client wants to do and what they want to achieve, I make sure the right people are involved to help deliver the objectives against that contract.
Can you tell me about the projects you've got coming up?
We're really excited to have won a 12-month contract with 'Personalised Care Institute', an NHS-funded organisation with more than 40 stakeholders including all of the royal colleges and some major national charities. They want to help health professionals to empower patients to get more involved in how their care is planned, so it's a really exciting mission. This was a big one for us as we were up against really well-established, award-winning national agencies! We're working with Eitan Medical UK, an infusion therapy company from Israel who have recently launched the company in the UK and have appointed Evergreen to help them communicate their value proposition to healthcare professionals, biomedical engineers and commissioners, for 12 months.
Another company we're working with is iSpace Wellbeing, who provide a children's mental health wellbeing curriculum, which they've offered for free for all schools across the country, and we will be working with them for six months to help them reach more schools and support more children in the mental health crisis that has followed Covid-19.
A shorter contract we're working on is with 'Block Bio Science', an app developed due to COVID-19. The idea behind the app is it's a place where you'll keep all of your COVID data securely, such as your vaccination records, test results, contact tracing and so on. We've been helping them to establish messaging and hit mainstream national news.
And just last month we on-boarded OutSideClinic, which provides free eye tests and hearing tests to elderly people in their homes. We're supporting them with their messaging and growth plans.
Has lockdown had an impact on your business?
In my experience, lockdown has changed how we work and made business owners re-think a lot of things. For example, Evergreen was pitched from the beginning as a virtual consultancy and before COVID-19 people might have thought, "What is that?", or have not liked the fact there wasn't a big fancy office behind the business.
In that respect, I think it might have opened doors for me that may otherwise have been closed. We are realising that great work can be done from the home and, in addition, I think talented professionals are also reassessing their jobs and thinking about the benefits of working for and with companies that offer that flexibility. I also think that new organisations and businesses starting out now have a better chance of breaking through because everything is to play for!
What are you future goals for Evergreen PR?
The goal is, and will always be, to transform the health of the public by supporting excellent organisations, products and services.
I want Evergreen to have the expertise, either within the organisation or from external freelancers who are experts in their field, to be able to deliver brilliant award-winning PR for household name organisation and healthcare institutions - and ultimately become the 'go to' agency within this sector.
Over the last 12 months we've had an impact and, thanks to our work, the Government has appointed a working group to discuss tinnitus research funding, numerous companies are offering free evidence-based digital physio from one of our clients to their employees, care homes are piloting one of our clients' remote health monitoring technology and more schools have a mental health curriculum in place.
What was the benefit of the Cooper Project?
For me, it was the help with knowing where to start and getting off the ground. In the early stages I knew what I was doing from a PR perspective, as I'd worked in the field for many years, but I'd only worked in a commercial/agency setting for 18 months, so although I'd learnt a lot in that time there was a lot I still didn't know which the Cooper Project helped me with.
I also think just being exposed to a lot of people who are doing the same thing, are at the start of setting up a company, was really helpful and I would say that being able to run ideas past people and getting ideas for new business opportunities was really valuable. It's a brilliant hub of creative and hard-working people and I'd advise anyone who has a business idea that they would like to explore to get in touch and see if they can help.