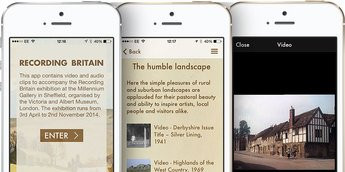 Llama Digital pioneers new beacon technology with Museums Sheffield
Author: Llama Digital
Visitors to the Recording Britain exhibition at Sheffield's Millennium Galleries are enjoying an extra dimension to their visit with a new app designed by local company Llama Digital. The specially created free app allows visitors to explore extra materials relating to the show, including archive film footage from the library of British Pathé.
Llama Digital has created the app using the new beacon technology. The technology uses very small Bluetooth transmitters which locate where you are in the exhibition. The app then shows additional content related to that part of the exhibit, such as British Pathé film clips and readings of John Betjeman poems . As you move through the galleries, the available content changes to complement the artworks you are viewing.
Stephen Elliott, Llama Digital's founder, explains:
"Beacon technology is still really new and is mostly being tested out in a retail setting. We do a lot of work with museums and heritage sites and we were excited by the possibilities it offers to enrich the visitor experience. As far as we know, this is the first time this has been done in the UK. We approached Museums Sheffield to see if they would take part in a pilot with us and were delighted when they suggested we develop something for the Victoria & Albert Museum's touring exhibition, Recording Britain."
Eric Hildrew, Communications Manager at at Museums Sheffield:
"We are always looking for ways to enhance the experience for our visitors. Smart phones go everywhere with people and, along with our free WiFi, open up all sorts of possibilities. It has been really interesting working with Llama Digital to incorporate additional interpretative materials and it is great that we have this kind of technology expertise here in Sheffield."
The Recording Britain exhibition opens on 3rd April 2014 and runs until 2nd November 2014.