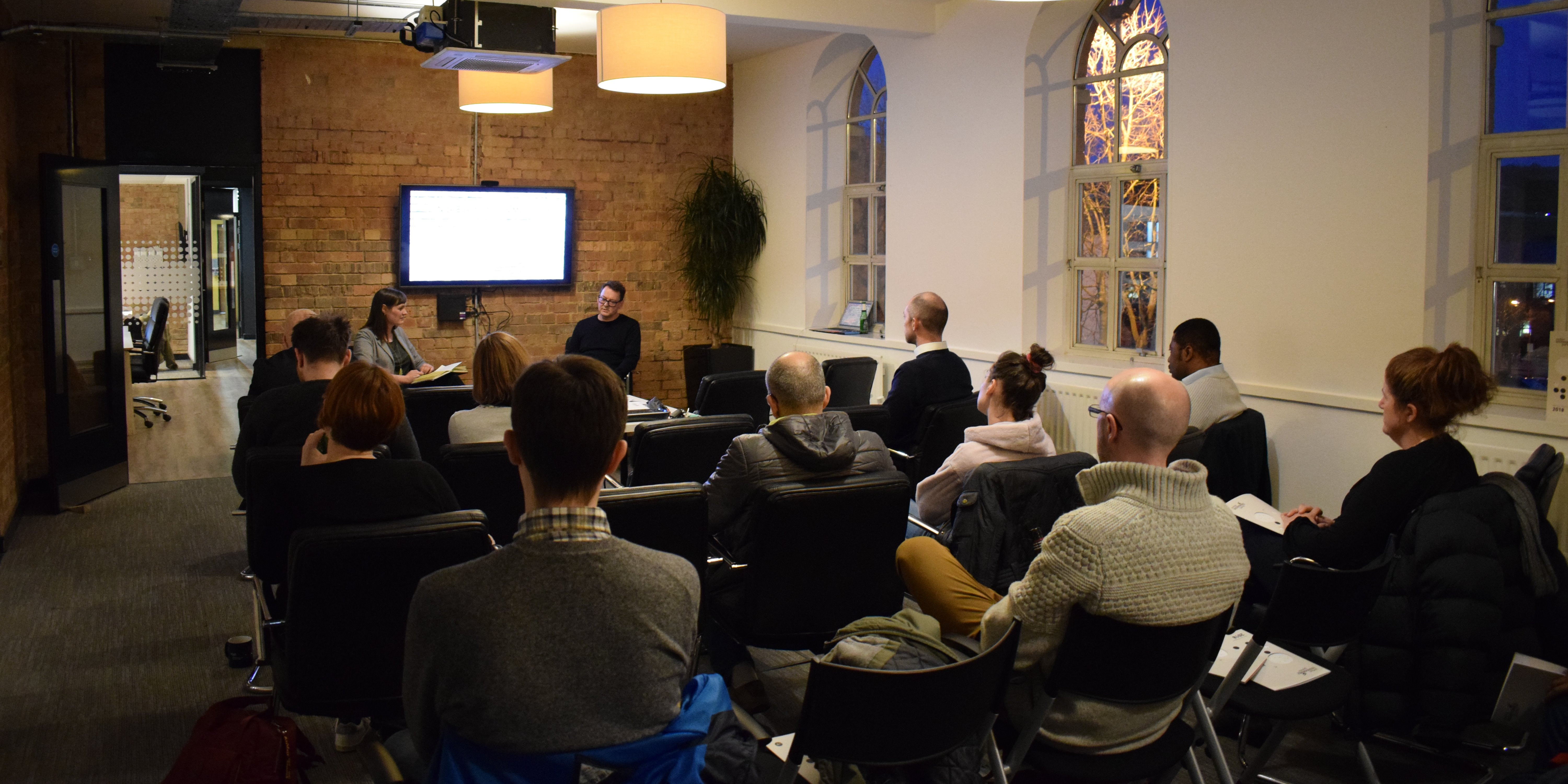 Fireside Chat with Nick Bax
We were thrilled to welcome Nick Bax, Managing Director and Founder of creative agency 'Human', to Sheffield Technology Parks for our third Fireside Chat.
Our Fireside Chats are a great opportunity for budding entrepreneurs and startups to hear from, and ask questions to, successful entrepreneurs in the local area. The theme for the evening, which took place on Tuesday 5th March, was 'Business x Creativity x Technology = A Process of Imagination and Action.'
The theme helped to reflect Nick's 25 years of experience in the fields of graphic design, creative direction and art. Nick was also part of the world-renowned Designers Republic team for 15 years prior to the launch of his creative agency in 2007.
Located in the Park Hill area of Sheffield, just outside the city centre, Nick described his company as: "A small team, made up of 8 members of staff, who work locally, nationally and internationally. Our main sectors of work are education and entertainment, which isn't a common mix – but it works for us!"
Some of Human's domestic clients include the Arts Council, Channel 4, Warp Films, Virgin Records and the University of Sheffield to name a few. Their international clients are spread across Europe, the USA, Canada, Japan, and Brazil. Nick shared the varied work that they do stating: "We've created innovative exhibitions and events, we've worked on collaborations with artists and musicians, and we also create websites, publications and branding."
His motivation for setting up the business was driven by his desire to discover technology, culture and knowledge. Human collaborate with organisations, groups or individuals who make a difference and during the talk Nick advised the attendees to stick to their principles, saying: "We're proud of the work we do, and we display it on our website. We wouldn't do work that we didn't agree with, or feel is unethical, just for the money".
During the chat, Nick mentioned how he has an employee retention rate of 100% since starting Human. One attendee asked Nick how he thinks he's managed this. He replied: "My team want to feel like they're contributing and doing something worth-while. Instead of formal appraisals I like to do something called 'Lunch with Nick'. My employees get to pick where we go, and this is a chance for us to catch up. They can highlight any problems to me, and I can make sure they are still happy. Being happy is hopefully what has kept them there!"
When asked about his future plans, Nick replied: "I don't subscribe to the learn as much as you can…earn as much as you can…and then retire sort of moto! I'm more focused on continuing to learn, challenging myself and venturing into new things such as learning more about VR technology."
He continued: "I don't have plans to sell the company any time soon, that isn't my goal!"