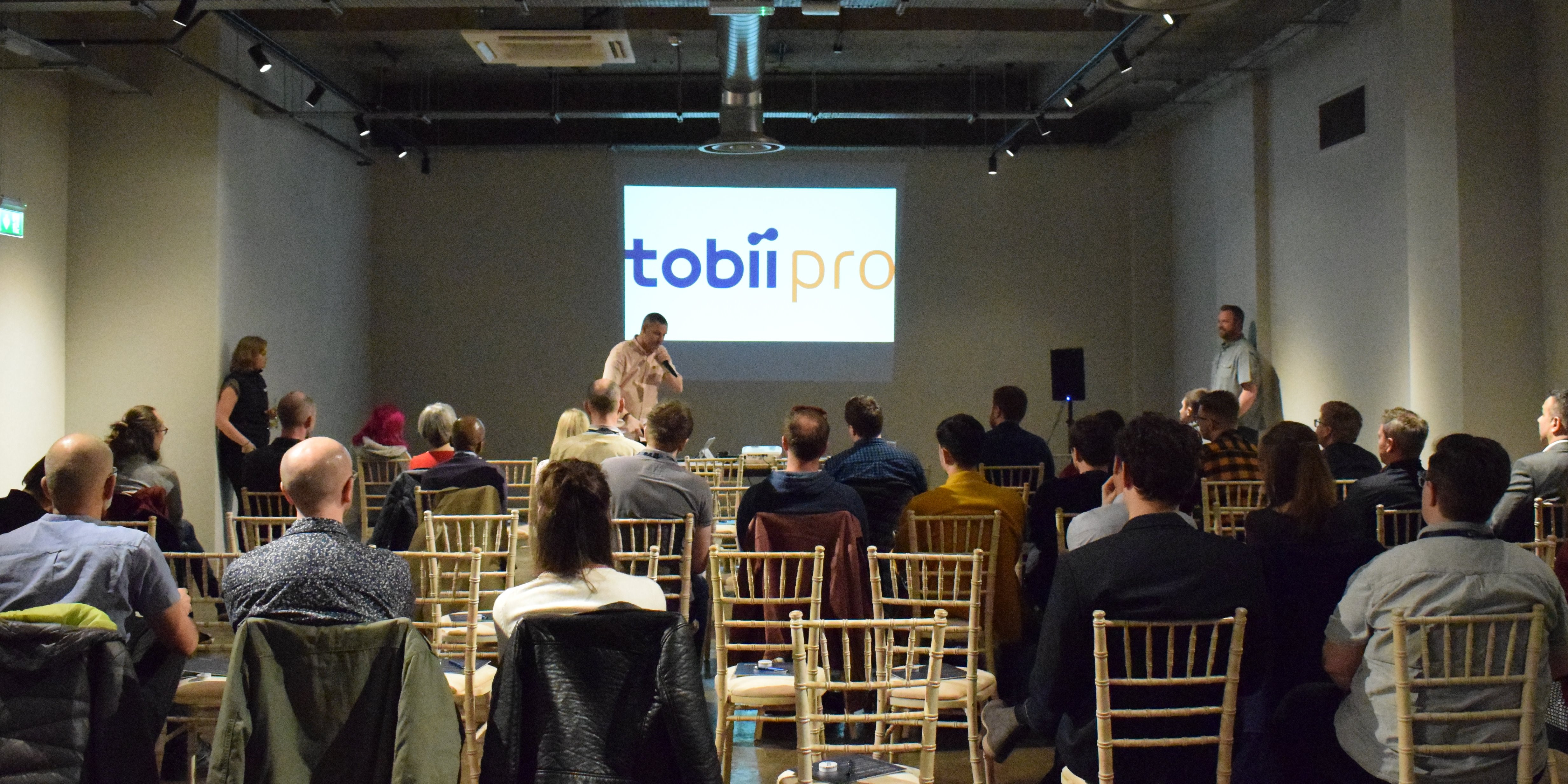 It's all in the eye of the beholder
Knowing where someone is looking can reveal a huge amount about their attention, their interests, how awake they are and what their mental state is. Capture the means to track that eye movement, and you have the potential for a wide range of products and services.
Eye tracking software does exactly that, and world leaders in this evolving technology, Stockholm-based Tobii Group, recently visited Sheffield to showcase the many potential applications. The event, hosted by Sheffield Technology Parks with Sheffield Digital, offered local tech entrepreneurs, developers and researchers an opportunity to explore how eye tracking technology could offer a potential new avenue. The event took place on 28th March at Kommune, Sheffield's newest all-day dining outlet in Castlegate with a range of independent food outlets, speciality coffee and craft brewers.
Representatives from the Tobii team showcased three main areas of application: assistive technology for people with reduced ability to speak and communicate; solutions for researchers and scientists to study human behaviour and undertake market research; and integration with consumer electronics including gaming, virtual reality and smartphone devices. The team included Rob Gregory from Tobii's assistive technology division based here in Sheffield, which specialises in providing solutions to help people with loss of movement and speech to continue working.
Presentations revealed the power of eye tracking software to enable people to speak and act just by moving their eyes, as well as the power of eye tracking software to inform design of such as video games by revealing players' likely patterns of play.
At the end of the event, there was a prize draw for a Tobii 4C USB eyetracker device, which was won by Ben Carlin of Megaverse. Ben Carlin, co-founder of Megaverse, said: "We really enjoyed the event and got a lot out of it. We are arranging a meeting with Tobii to talk through a couple of our ideas we'd like to collaborate with them on.
"Megaverse is very keen on using Tobii's eye tracking tech in Sheffield Children's Hospital as a way for patients to interact with light-based installations, particularly for when the treatments require them to be still. This can help nurses to efficiently administer treatment whilst offering light relief to patients that often find these experiences overwhelming and daunting."
Tom Wolfenden, Manager at Sheffield Technology Parks, said: "We're really pleased with how the event turned out. Bringing interested people together to experience the eyetracking technology available from Tobii opens up a world of new opportunities for Sheffield's digital firms to gain a leading edge on competitors, or develop products and services using the technology that are truly pioneering."
Mel Kanarek, co-founder of Sheffield Digital, said: "It was great to find out about the innovation of a local digital sector company, Tobii Dynavox, and to understand how they form part of a global operation that is doing ground-breaking work. This kind of event helps to support the local digital sector community by showcasing new technologies and offering opportunities for networking and collaboration."
For more information about Tobii's assistive tech, contact Rob Gregory at Tobii Dynavox on email: Rob.Gregory@tobiidynavox.com
To explore Tobii's research and user design products, contact Jon Ward Jon.Ward@tobii.com